Where the green revolution meets a natural paradise  
Gällivare is for skiers and snowmobilers, hikers and mountain bikers, for river walkers and midnight sun talkers. This is a place for those who want to let nature be the timekeeper. Situated just inside the Arctic Circle, Gällivare and its people have been shaped by nature's hand over millennia. We have eight distinct seasons for you to enjoy, surrounded and guided by our culture and environment.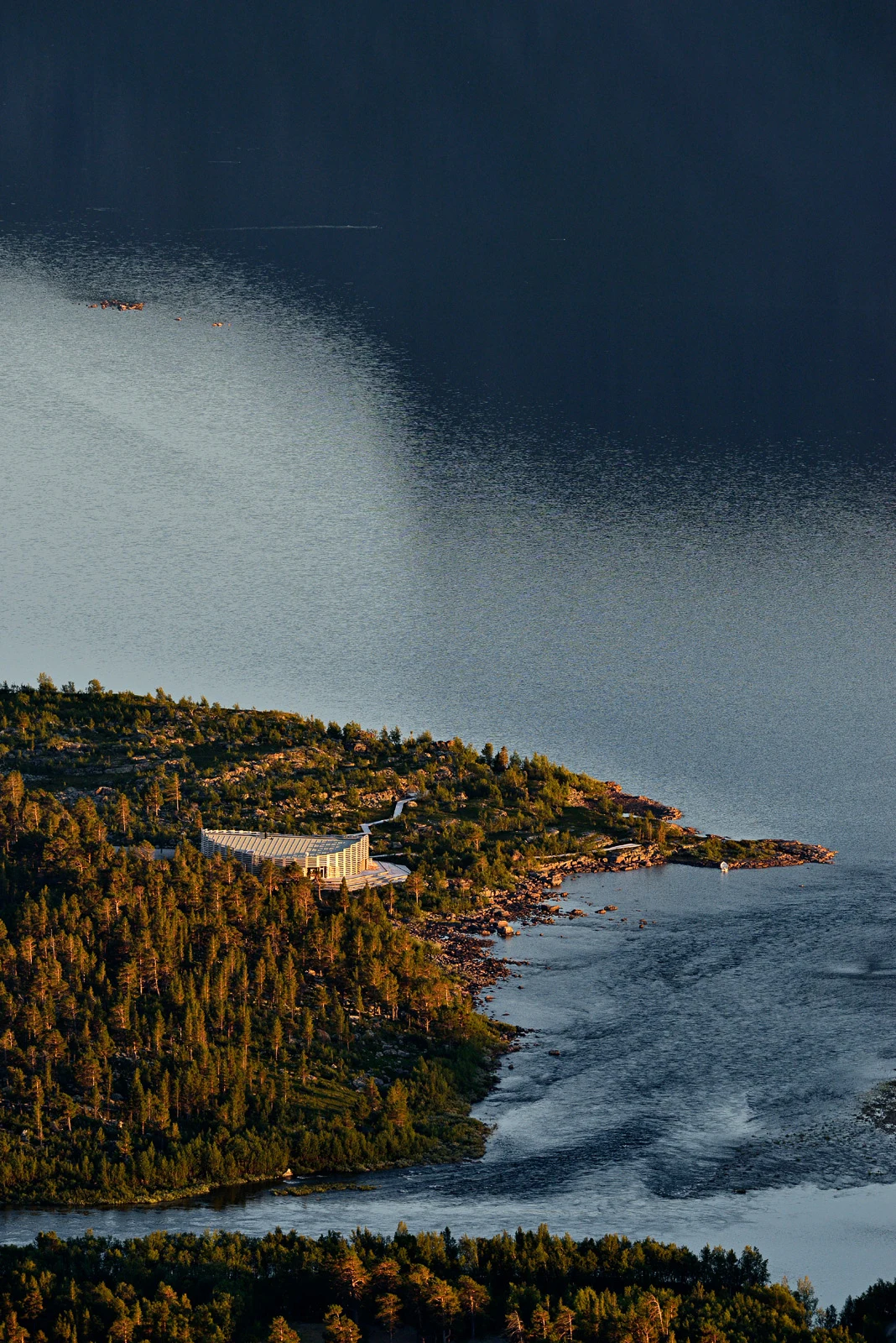 The UNESCO World Heritage site of Laponia has four national parks, two nature reserves and nine Sami villages. And Dundret Lapland, one of Sweden's leading ski facilities, is just minutes from downtown Gällivare and open from late October until early May.  
It's not always winter in Gällivare 
With winter sports and activities being so well known, it's only fair to give the spring and summer months the attention they absolutely deserve! June through September offers limitless outdoor activities for all to enjoy activities, including outdoor bathing, kayaking, and paddle boarding in the crystal-clear lakes and rivers. Or try mountain biking on the forested trails of Dundret mountain and hiking through the unparalleled beauty of Sarek National Park.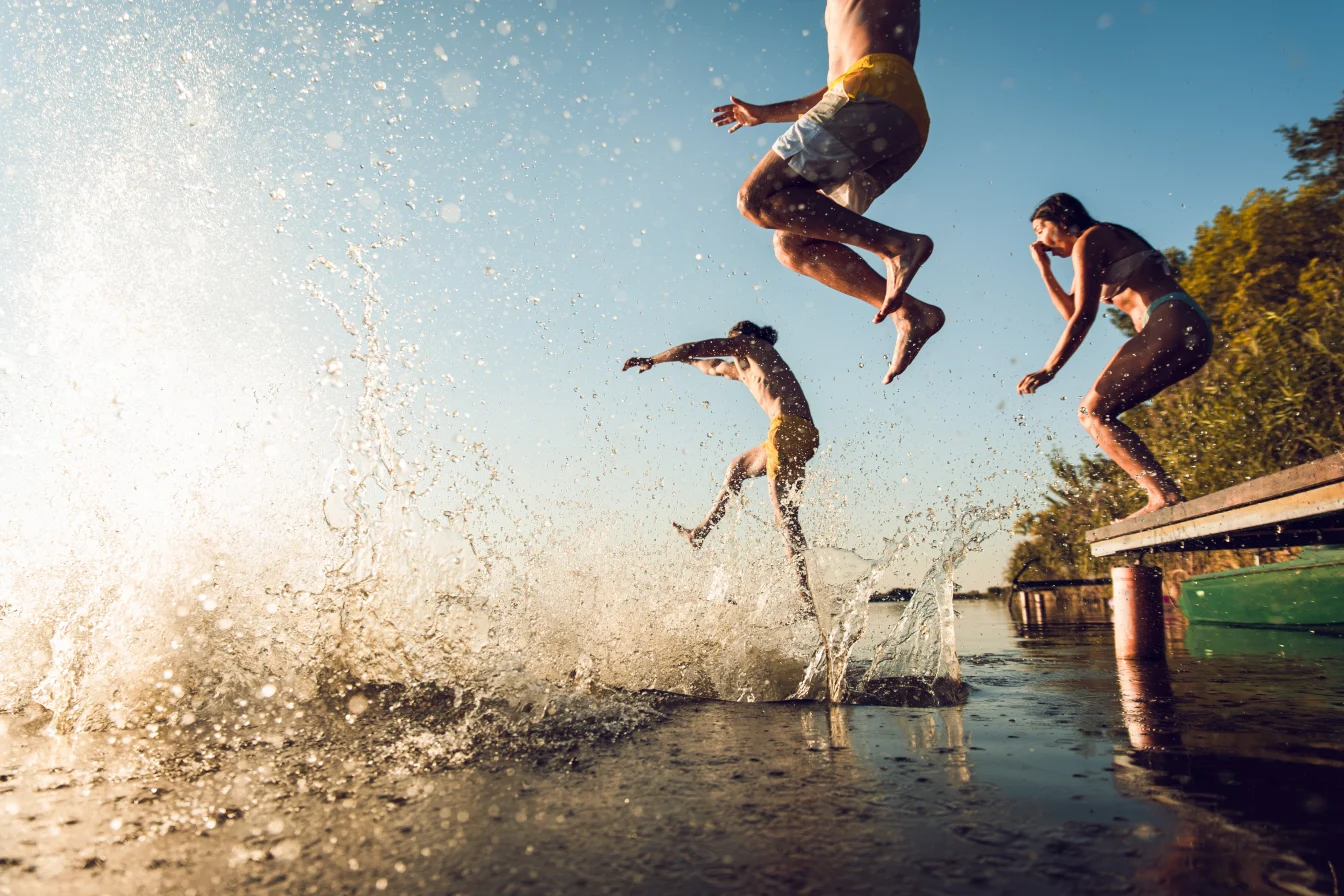 The midnight sun of the Swedish Arctic 
Gällivare offers a unique opportunity for a bucket list tick mark from June 1st to July 10th, where you can view the midnight sun about 800 meters above sea level on Dundret mountain, about 20 minutes by car from central Gällivare. In clear weather, legend has it, you can see 11% of Sweden's land area! 
National parks near Gällivare 
Four of Sweden's 30 national parks are located in Swedish Lapland or Laponia, as it is locally known. They are Sarek, Padjelanda, Muddus, and Stora Sjöfallet. Together, the centuries old forests, mountains, ravines, waterfalls, and wide marshes cover 9,400 square kilometers within the municipalities of Jokkmokk and Gällivare.
Home to brown bear, lynx, wolverine, and the traditional Sami reindeer herding culture, it's a truly unforgettable place that beckons you to explore!
Endless epic adventures 
With breath-taking views over Lapland and Harrträsket Lake, Gällivare Dundret is difficult to beat in this part of Sweden. For alpine and cross-country skiing, Dundret offers a wide variety of well-groomed trails and off-piste adventures. And if you fancy a shot at spotting the northern lights, check out the unique Aurora Hut! 
When it's time to give your skis a break, try snowmobiling through the fresh snow or prepared trails solo or on a guided safari. Experience hundreds of kilometers of nature your way, with the northern lights as your backdrop (if you're lucky!).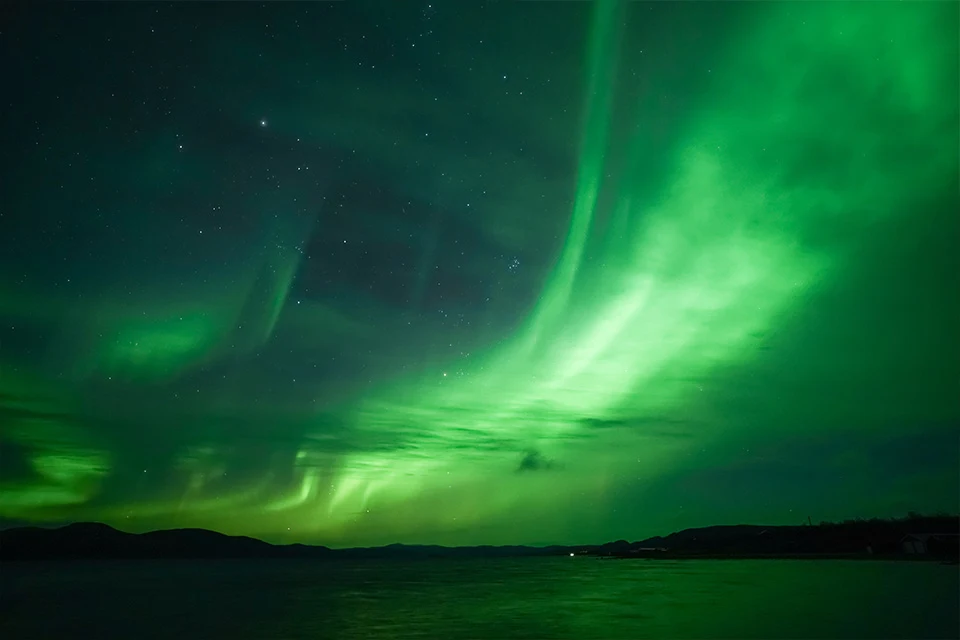 Beyond skiing and snowmobiling, try ice-fishing on a frozen lake, dog sledding through a winter wonderland, summer fishing on a free-flowing river, or long woodland walks, as endless epic adventures await you and your family in Gällivare.
DUNDRET LAPLAND
Dundret mountain and the Dundret Lapland facility photographed from above. Photo by Wesley Overklift
Everyone joins forces for Dundret Lapland
Dundret. The mountain that stands safely beside the society. The name comes from the Lule Sami Váhtjerduottar, which in Finnish translates to Tunturi, mountain. Over time, it has acquired the Swedish name Dundret. The mountain is and has long been a reindeer herding area, a gathering place, a reason to return, to move here, to stay and to get out. If Dundret is well, Gällivare is well. The ski slope itself is now run under new management, by Dundret Gällivare Fjällanläggning AB. We've talked to some of those who have been with us from the start, or jumped on along the way. All with the common drive to make Dundret Lapland a long-term sustainable meeting place.  
The steep, and sometimes windswept, mountain slopes have nurtured freeski pro Kristoffer Turdell and the snowboard collective Gälka Warriors. Sweden's elite cross-country skiers, led by Charlotte Kalla, have climbed the merciless Fjällbranten, the same slope that attracts the world's alpine stars to hurtle down it. On the Liikavaara slope, many children have taken their first turns, while casting longing and sometimes anxious glances towards the "Stordundret". Many local residents have a strong relationship with the mountain, and are keen to see the facility do well.
In the winter of 2019, it was as if the community was holding its breath, Dundret was for sale again and there were whispers and rumours about what would happen. In mid-April, the news broke that Gällivare municipality had once again bought the ski resort, and a few months later Tobias Larsson, Linus Lagnestig and Johan Olofsson were standing by the empty buildings, keys in hand.  In addition to the bunch of keys, they had a USB memory stick, a binder and a broken screwdriver. And the mountain itself, of course. The rest they had to build together, and they were reinforced by Moa Hallén and Hanna Aspebo.  
- What a start. We had nothing," says Hanna, laughing as she reflects on what it was like.
A lot has happened since then. A new municipal company was formed, Dundret Lapland Fjällanläggning AB, and the new operations manager, Tobias Larsson, knew more or less what he was getting into. But the word "start-up" probably took on a new meaning. He recalls the chaotic autumn of 2019.
- We had no staff, no tools, nothing to transport us and nothing worked. So we just drove. We slept under desks and every day more people came in to help.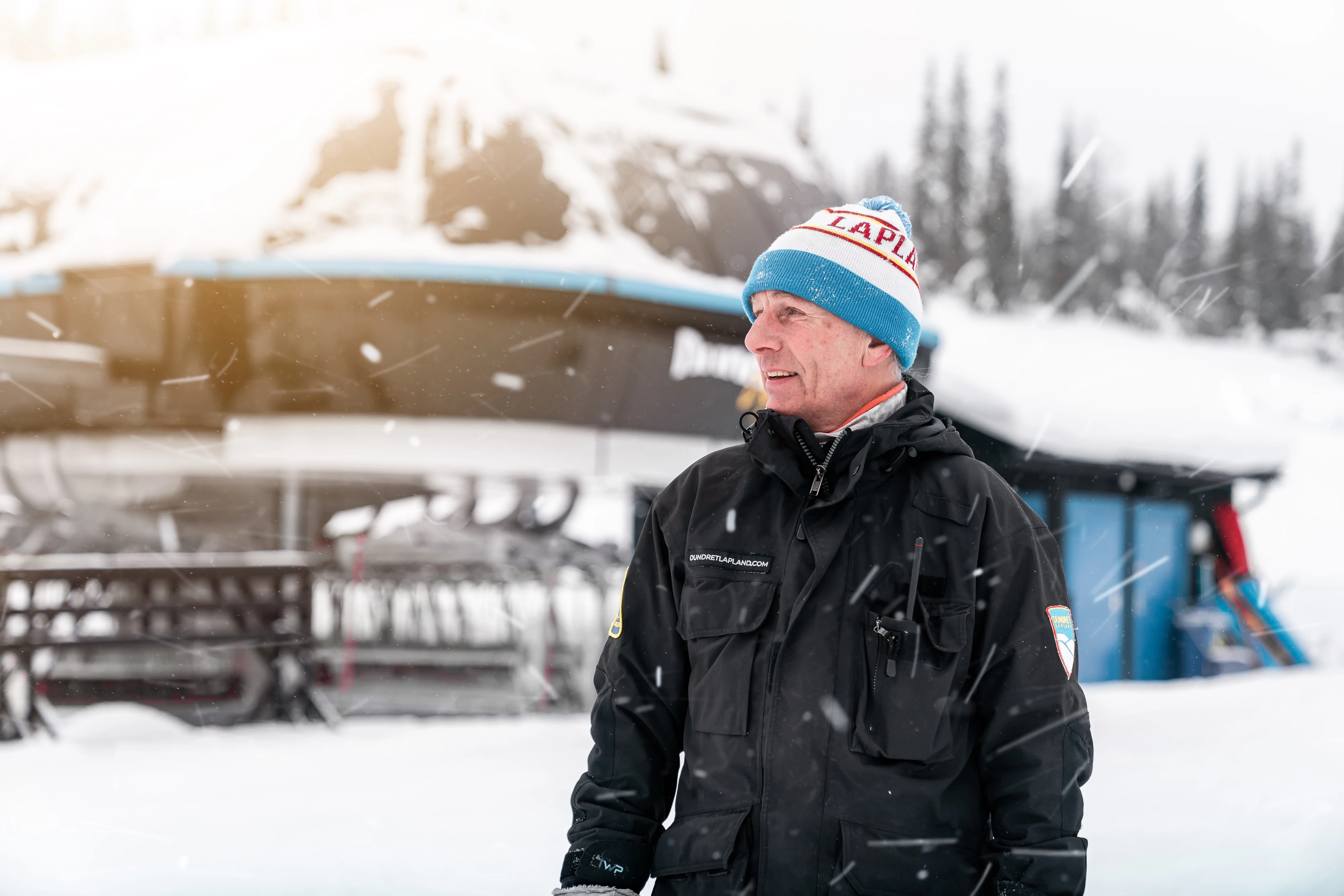 Kjell-Ove Sjöholm in front of the Express lift. After retirement, Dundret Lapland has become his new workplace and he enjoys working outdoors. Photo: Wesley Overklift
One of them was Kjell-Ove Sjöholm, retired from the mine a few years ago and a faithful guest at Dundret. He had had a lift pass for 55 years and felt committed to the future of the resort. In recent years he hadn't visited Dundret at all, but when the municipality took over, he wanted to contribute.
- I've been at Dundret all my life, been a coach for GSK. You feel for the place, it was fun when they took over here, now maybe there will be a little pull here, says Kjell-Ove, who will soon go out into the hills and work.
It was an intense period of snow-blowing, repairs and start-up of the plant. By the autumn holidays, the lift was up and running and the local population showed its support. Barely four months after opening, Dundret Lapland was voted Sweden's best ski resort, a clear indication that people were happy to be back in business.
Kjell-Ove was one of several pensioners who came to work. In addition, shift workers came to work on their off-weeks, high school students who needed extra jobs and other locals who were happy to help Dundret Lapland get off the ground. Today, the mountain resort has gathered a large team and Kjell-Ove enjoys working across generational boundaries.
- You get to work with younger people who are on the ball. You have some experience and they have enthusiasm, so we combine it. There are a lot of people who want to work here. Sometimes you hear someone say, 'Aren't there any shifts to work?'" he says, smiling.
We had no staff, no tools, nothing to transport us and nothing worked. So we just drove. We slept under desks and every day more people came in to help.
For Tobias, Dundret has always been a place he has returned to, no matter where he has lived. Almost ten years ago, he and Linus Lagnestig started the company Shapepahs to organise snowboarding events and build jumps. Despite a full-time job in Aitik and building a house in Repisvaara, he spent all his free time on Dundret, riding boards, building jumps and learning to drive a piste machine. Somewhere in there grew a dream of being able to help build his home mountain according to his vision.
But over the next few years, he started a business and worked as a consultant in the mining industry, which didn't feel right after a while. Then the opportunity with Dundret came up and the old dreams came back to life. At the time, he was commuting to Svappavaara and justified the career change by saying that he would save a lot of time when he was so close to work. But building up a mountain resort and starting a new company is hard work, so he hasn't saved much time, but Tobias is glad he took the plunge.  
- I feel like I haven't worked a day since I started at Dundret Lapland, it's like living some kind of dream here," he says with a smile. He is grateful for all the support the local people have shown, and how many have been willing to help build the company.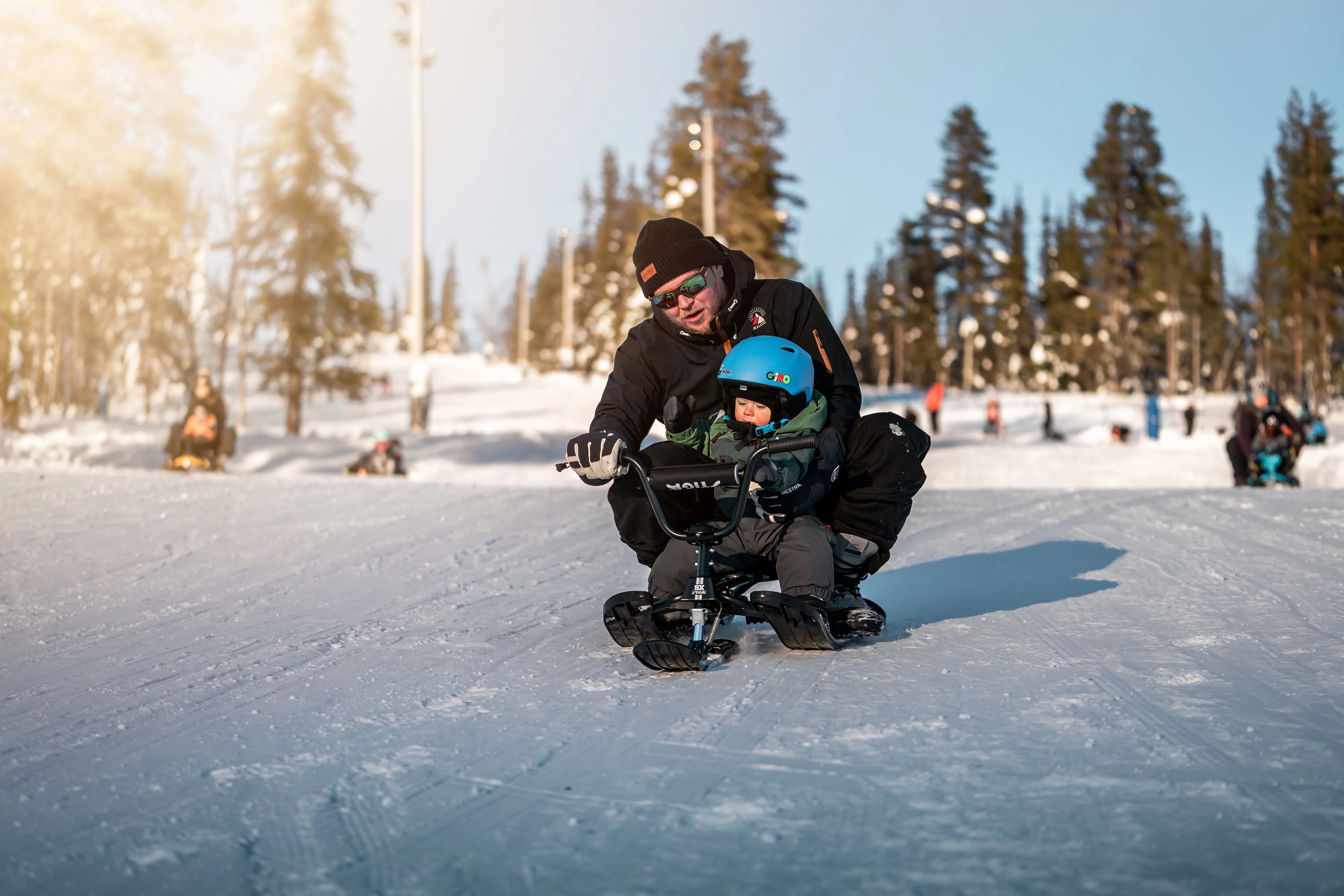 Tobias Larsson bobsledding with his son. He is very happy that he jumped at the job as operations manager for Dundret Lapland. Photo by Wesley Overklift
Colleague Hanna Aspebo agrees. In autumn 2019, she was living in Gothenburg and had just finished her education in events and hospitality, had found a job in the industry and had no plans to move back home to Gällivare. But then Tobias got in touch and offered her a job. Hanna read the business and vision plan and, as she had always been a strong ambassador for her home town, she accepted.
- I was convinced that we could achieve something good together. So I resigned, stored the furniture and moved up here.
Like Tobias, she knew it would be hard work to get everything up and running. A year later, she can look back on the year and see what a journey it's been so far. Some things haven't gone as planned at all and some things have been much better.
- It's been tough, but you really feel like you're making a difference. The dedication of the people who work here is amazing.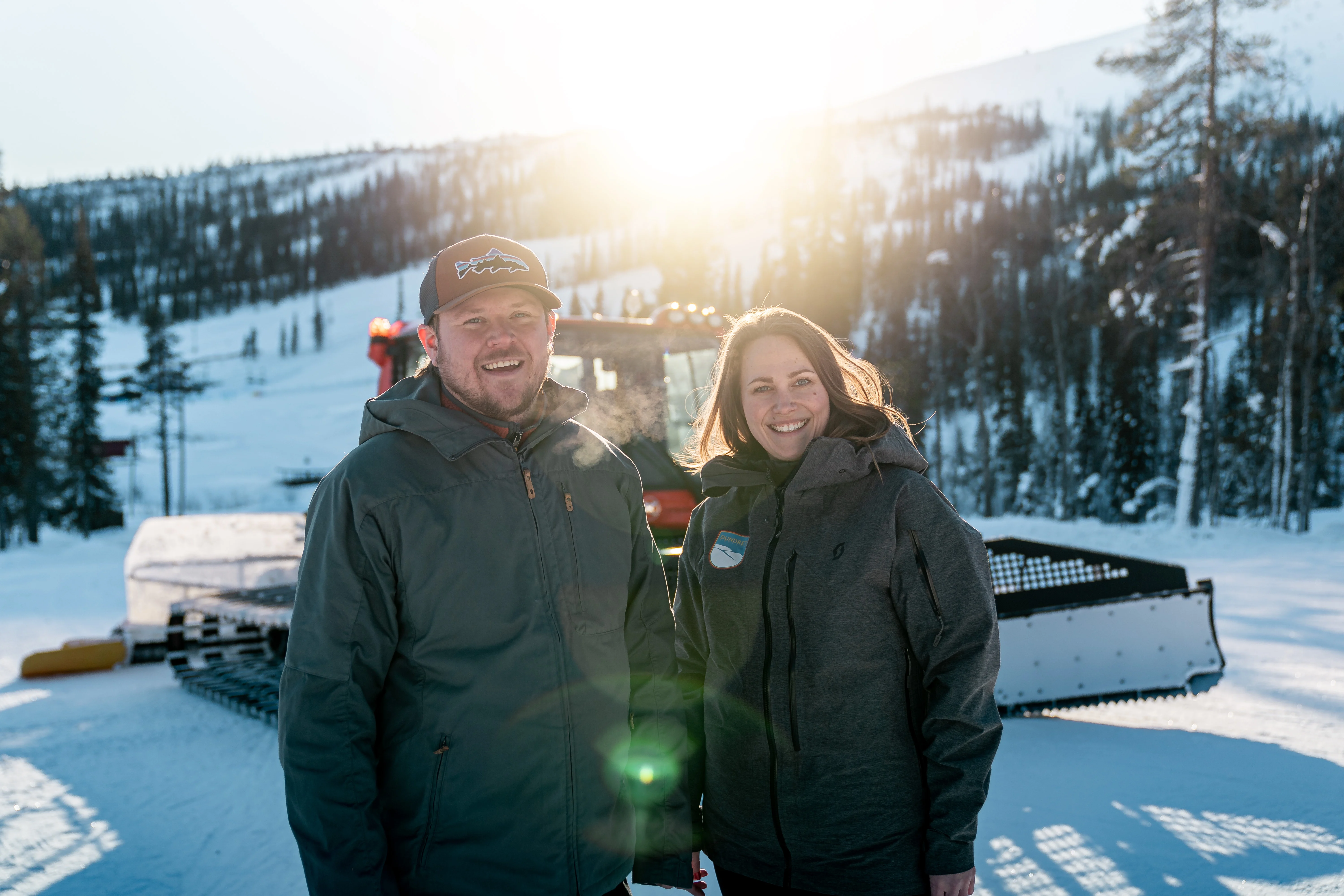 Tobias Larsson and Hanna Aspebo are happy about the commitment of Dundret Lapland. Photo: Wesley Overklift
Since September 2019, together with other colleagues, they have built up Dundret Lapland, attracted new guests, refreshed the resort, started to renovate the slopes and dream of being a year-round resort that competes with other large mountain resorts. They have also spent a lot of time working on culture and values within the organisation, to create a socially sustainable workplace.For the employees, Dundret Lapland is more than just a mountain and a mountain resort. Many of them have been skiing at Dundret since childhood, which Hanna believes contributes to the welcoming atmosphere and the desire to develop.
- Many of us have grown up here, and we work here out of our hearts for the Dundret. We are passionate about the mountain. Some of the people who work here don't even come from Gällivare, but they still have a very strong attraction here. One of those drawn here was Marta Gorska, who started working as a ski patroller last spring. She was new to the municipality at the time, having just moved to Skaulo and working as a construction manager. She had previously worked as a ski patroller in Jämtland, and since Dundret was an undiscovered mountain for her, she started working extra at the resort. Combined it with her other job.
- I wanted to work outdoors, it suits me best," says Marta. She liked it, so she quit her regular job to work seasonally at Dundret Lapland. Now she lives in the staff quarters and enjoys having the whole mountain as her workplace.
- Here you get a little bit of everything. You'll feel like you're in the mountains, even though you're not. It's five minutes to the shop, and if you walk five minutes in the opposite direction, you'll reach the primeval forest. Marta, who has spent a lot of time around the mountain world, is glad that Dundret is a nature reserve. The mountain and the surrounding area are also winter grazing grounds for the Unna Tjerusj sameby.
Like the others, she feels strongly about Dundret Lapland and is excited to be involved in developing the facility.  
- I'm very happy if I can contribute something that I have experience of from other facilities," says Marta, who will soon start her afternoon session. 
Dundret Lapland is not the place to make the most money. We have to work hard and turn our hats every which way. The people who work here understand that and everyone wants to look ahead all the time. What you work for today is what creates better conditions for the future. 
The winter season 20/21 has started well for Dundret Lapland. After the early closure last spring, a huge amount of work has been put into the facility, which visitors are sure to notice. Despite the pandemic, they have increased their visitor numbers, which Tobias believes is due to many other activities being closed, and Dundret Lapland becoming the natural meeting place. They have all been amazed by the large number of visitors and the overcrowded car park, something they hardly dared to dream of before. Of course, there is a lot of work and investment to be done to get the facility in the condition they all want, and Tobias and his colleagues know that there is no way to anticipate events. That you have to make the most of every day.
- Dundret Lapland is not the place to make the most money. We have to work hard and turn our hats every which way. The people who work here understand that and everyone wants to look ahead all the time. What you work for today is what creates better conditions for the future.
The others agree, and are all happy to be on the trip and part of the community that exists at Dundret Lapland, both among staff, locals and visiting guests.
- Dundret is the heart of Gällivar. It pumps pulses to the rest of the community. You can see Dundret from everywhere, and it will always be here. If Dundret does well, we create ambassadors in the local population, we create pride, says Hanna.  
There is no doubt that Dundret Lapland is back as a natural gathering place. 
Julia Palo
26 February 2021 
FACTS
Dundret Lapland is owned by the municipal company Dundret Gällivare Fjällanläggning AB. The vision is to become the most attractive and welcoming arena for sustainable tourism. The company currently has around 40 employees.
Read more at Dundret Lapland!