From startups to global players 
Luleå is a dynamic and growing city driving the green transition in the Swedish Arctic. Decades of development in core industries such as raw materials, forestry, steel, and electricity generation are propelling Luleå into this new and exciting phase. Today, more than 120 billion Euros are pledged throughout the region to enable companies to decarbonize multiple industries simultaneously, transforming Luleå and its sister cities into one of the most impactful green industrial superclusters on the planet! With the goal of attracting more than 100 000 new talents to the region to fulfill the promise of the burgeoning industrial revolution taking place here, Luleå will take centerstage during this extraordinary development.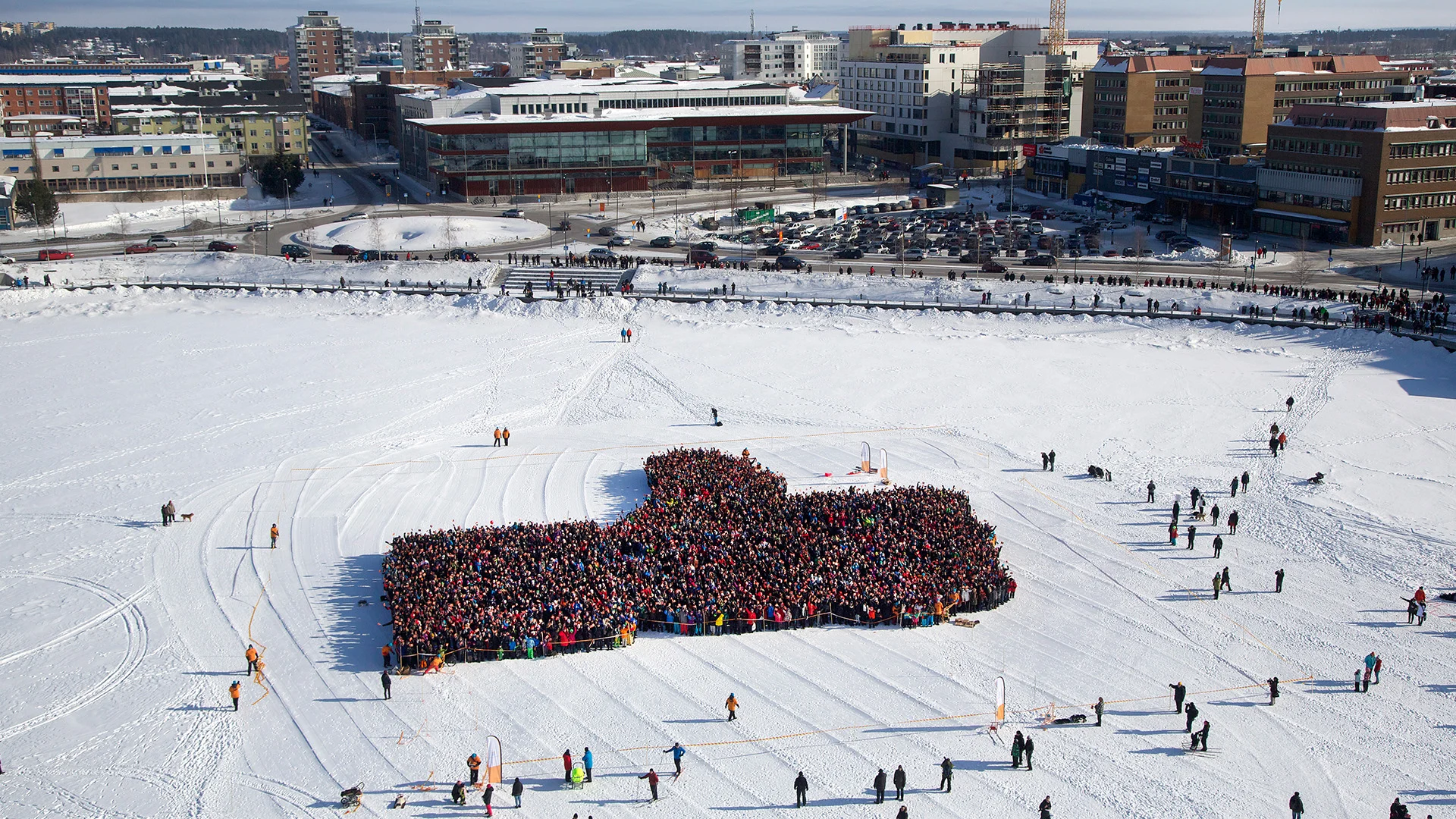 The business community in Luleå is driven by a shared passion for this incredible transition, from startups to global powerhouses all playing integral roles. We need talent from all over the world to bring our ideas and ambitions to fruition. Whatever your talents, there is a place for you in this small but powerful city at the center of Sweden's drive to play an outsized role in decarbonizing the impossible. 
There are multiple ways to get connected to Luleå's thriving business ecosystem, ranging from informal business breakfasts, to agenda driven industrial councils, to advisory services for starting or growing your company! Below you will find just a glimpse of the actors working to support a thriving business climate. Join us in this flourishing city, and discover your purpose in northern Sweden's green industrial revolution. New people and ideas are always welcome in Luleå! 
Business organizations & networking opportunities 
Luleå Business Region
Luleå Business Region works to create sustainable business development through its mission to support initiatives, companies, and forums, locally and regionally. It helps investors, visitors, companies and event organizers establish in Luleå. Luleå Business Region also works to monitor and influence regional, national, and international processes and decisions which affect the conditions of business development and growth. 
Norrbotten Chamber of Commerce 
Boasting over 300 members, the Norrbotten Chamber of Commerce is a great forum to build new relationships and gain instant access to the best and brightest minds in the Swedish Arctic. As the second oldest chamber in Sweden, it has more than 118 years of experience of representing and promoting its members locally, nationally, and globally through its three main focus areas of infrastructure, international trade, and competence. To ensure that the priorities and concerns of its members are heard, the Chamber takes an active part in the public debate and engages in issues that are current and relevant. 
Luleå Näringsliv
Luleå Näringsliv is a member-owned collaborative company that aims to create long-term, profitable and sustainable growth in the business sector. Based on our partner companies' needs, we offer industry knowledge, expansive networks, and opportunities to influence progressive and sustainable development in the region as a collaboration. The work is carried out by nearly 300 member companies, local and national entrepreneurs, and investors in 12 different industry councils. We welcome you to join us at Luleå Näringsliv.
Invest in Norrbotten
Invest in Norrbotten is a regional investment promotion agency that assists and informs foreign investors about business and investment opportunities. Our function is to support and coordinate companies planning to establish or expand their business in northern Sweden. It offers an extensive network of local, regional, and national business contacts. If you are considering investing in or moving your business to northern Sweden, Invest in Norrbotten is here to help, with its services free of charge and with full confidentiality.
Startup incubators, mentoring, and funding 
Arctic Business 
Ranked at the 7th best university-affiliated incubator in the world by UBI Global, Arctic Business has helped build over 170 tech startups with offices on every continent and continues to host innovators from every corner of the globe. Together with its partners, Arctic Business offers the perfect environment for ideators, creatives, and entrepreneurs.
Norrlandsfonden 
Norrlandsfonden is a trust fund that works to promote the development of companies with ambitions for growth in northern Sweden. Its clients span across all business sectors, from production industry and tourism to IT and biotechnology. Each year it lends approximately 300 million SEK, enabling dynamic, progressive investments and helping companies to grow. Norrlandsfonden is independent but works in close collaboration with banks, venture capital companies, local business development agencies, and other actors involved in creating viable and expanding business opportunities in northern Sweden.
Almi  
Almi offers loans to companies with growth potential and assists in their business development. This applies to businesses in the start-up phase as well as established companies. Almi's activities complement the private market with respect to the financing and business development needs of companies.  
Venture Cup 
Venture Cup is Sweden's largest entrepreneurship competition, and connects experts from the business world with the entrepreneurs of the future. All competitors receive useful feedback, access to an established network, publicity, and the chance to win prize money. Venture Cup was founded in 1998 on the initiative of McKinsey & Company in collaboration with Chalmers University, University of Gothenburg, and Innovationsbron. Since its inception in 1998, more than 17,000 business ideas have been involved in the Venture Cup process.
Research & Development
Luleå University of Technology 
Luleå University of Technology, or LTU, is the premiere academic institution at the center of Sweden's green industrial revolution. With world-leading programs in space, sustainable materials in a circular economy, and green hydrogen - it is truly paving the path for the leaders of a more sustainable future. As the Vice-Chancellor, Birgitta Bergvall-Kåreborn, explains, LTU will have a significant "role to play in terms of competence development and lifelong learning and we have unique opportunities to position ourselves as one of Europe's and Sweden's strongest universities when it comes to research and education within the green transition."
Luleå Science Park 
Luleå Science Park is where innovative and knowledge-based companies develop and thrive. Companies are offered a creative and stimulating environment with access to meeting spaces, networking activities, conference opportunities, and service facilities. Today, Luleå Science Park has approximately 1,400 employees within 90 companies, representing 28 nationalities, that have the world as their market.
Rise Institute 
ICE Data Center at RISE is the leading data center research facility in Europe. ICE coordinates national research projects as well as the testing and development of all features in the technology stack, the infrastructure and building of data centers, edge and cloud applications, IT architecture, and machine learning. ICE's mission is to put Sweden at the forefront in the area of effective data center solutions, edge computing, cloud applications, and data analysis.